WKRECC members now have two options for professional Home Energy Evaluations. Both options are free.
First, WKRECC offers the Residential Energy Audit Program (REAP). When you select this option, trained energy engineers will visit your home and use the latest home evaluation tools to find ways to reduce your energy use and save money on your monthly bill. 
When the audit is complete, members receive a report with recommendations for the actions you can take to save. If you implement any of these recommendations within six months, you will be refunded up to $50 for the cost of improvements. 
WKRECC also offers two-year, no-interest loans for other recommended efficiency improvements (up to a maximum of $2,000).
To schedule a REAP audit, call 877-495-7322.
Your second option is a virtual evaluation, right from your smartphone. Convenient and safe, virtual evaluations let you schedule a guided walkthrough of your home with a Home Energy Advisor. Using Augmented Reality (AR) technology, your Home Energy Advisor will evaluate your home, collect all the information needed for your custom TVA Energy Residential Services report and make energy-saving recommendations.
Call 855-237-2673 or visit EnergyRight.com to check eligibility and schedule your virtual Home Energy Evaluation.
Log in at your appointment time with a unique URL from your virtual Home Energy Advisor.
Using AR technology and your smartphone, your Home Energy Advisor will remotely guide you on a walkthrough of your home.
Receive your TVA Energy Residential Services report with your home's energy efficiency ranking and customized energy-saving recommendations.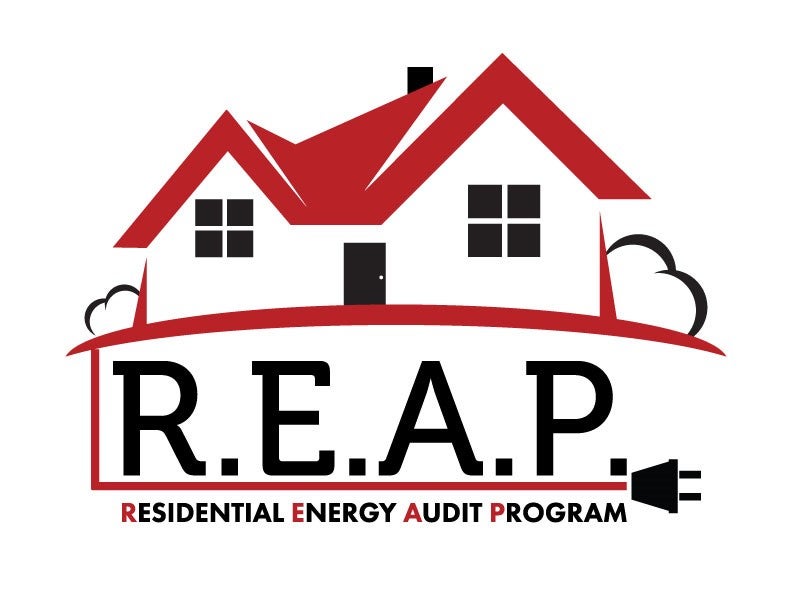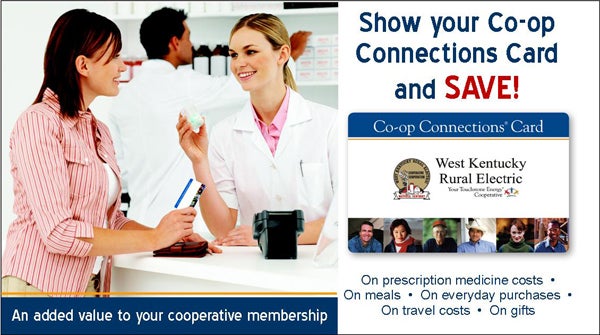 WKRECC previously mailed Co-op Connections Cards to existing members and new members receive a card along with other co-op information upon joining. If you did not receive a card or need a replacement, please contact Georgann Lookofsky at 270-247-1321. If your business would like to participate, call the office to register.
Please visit www.connections.coop to see all the national and local discounts offered to Co-op Connections Card holders.
Sponsored by Touchstone Energy Cooperatives, the Co-op Connections Program is a discount program available only to West Kentucky Rural Electric Cooperative members. The Co-op Connections Program is just another benefit to being a member of your local electric cooperative.
All members of West Kentucky Rural Electric are already enrolled in the Co-Op Connections Program at no cost to them. Information packages, including cards, were previously mailed to members. Members who did not receive an information package or would like a replacement card are encouraged to call the West Kentucky Rural Electric Cooperative offices.
The Co-op Connections Card offers discounts from many premier national companies and several businesses in the Western Kentucky area. Across the nation, Touchstone Energy Cooperatives have worked out Co-op Connections deals with more than 14,000 area and regional merchants.
More and more businesses are becoming part of the Co-op Connections Program every day. Members are encouraged to check the West Kentucky Rural Electric website frequently for updates. Many participating businesses will also feature a sticker on their door or cash register signalling their membership in the program.
As an added benefit to Cooperative members, the Co-op Connections Program can be used to receive discounts of 10%-60% on prescriptions at more than 56,000 pharmacies nationwide, including CVS, Walgreens, Wal-Mart and Target. The Co-op Connections card cannot be used in conjunction with insurance. However, you can use your card to purchase prescriptions not covered by your insurances plans. Ask your participating pharmacist about how to most effectively incorporate Co-op Connections discounts into your prescription purchases.
WKRECC's Home Uplift Program provides upgrades to help ease the energy burden and improve the overall comfort, safety, and health of a qualifying home. Home Uplift is offered through a partnership between West Kentucky RECC and our power provider, Tennessee Valley Authority (TVA). Based on the specific needs of each home, Home Uplift can update HVAC (heating, ventilation and air conditioning) units, add attic insulation, seal ducts and air leaks, install energy efficient water heaters and/or other needed clean air and efficiency improvements – at NO COST to the member. Generally, following Home Uplift, members experience lower electric bills and an improved quality of life improves.
Home Uplift applicants MUST be income-qualified to participate.  Please refer to the Home Uplift application for details.  CLEAResult, through their partnership with TVA, manages the application and qualification processes, as well as the contractor network and home audits.  For additional information, call 1-877-495-7322.
Mail the completed application to Home Uplift as directed.