Over the past few years there has been an increase in the use of home generators in our area. While we appreciate your desire to have electricity when our power system is compromised, please keep in mind that the safety of our line crew, emergency workers and neighbors is at stake when a generator is in operation at your home. Use the following tips to ensure that your home generator is safe for everyone involved.
Purchase a generator that is listed with Underwriter's Laboratory or Factory Mutual.
Read the owner's manual provided thoroughly before using your generator.
Always alert WKRECC of your generator if they plan to work on your line or if you report an outage.
Never plug the generator directly into a household outlet. This can energize "dead" power lines and pose harm to neighbors or line crew.
Install carbon monoxide detectors in your home as they will warn you of any gas entering your home.
The National Electric Safety Code (NESC) requires an emergency generator to be connected to the wiring system through a double-throw switch, to disconnect the generator from the cooperative's lines when it's being used.
Always ground the generator in accordance with the manufacturer's instructions.
Turn off the power at the main circuit breaker before you connect any appliances to the generator. Keep it turned off while the generator is in operation.
Never connect the generator to your home's wiring system.
Be aware of the generator's capacity and never overload the system with too many appliances.
Never use a generator inside your home or in an attached garage. Doing so can cause carbon monoxide poisoning. Keep your generator in a well-ventilated, dry area away from air intakes to the home and protected from direct exposure to rain and snow.
Only use safety-tested electrical cords design and rated for heaver, outdoor use to connect appliances to your generator.
Follow proper re-fueling practices. Turn off generator and allow it to cool before starting to re-fuel.
WKRECC offers GenerLink meter collar devices that make connecting a portable generator safe and easy.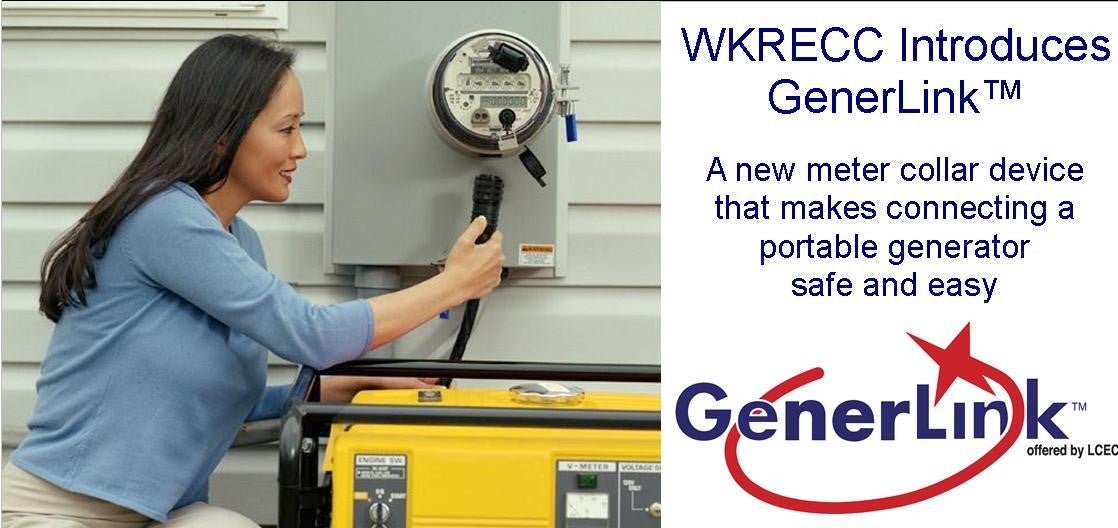 GenerLink™ makes connecting a portable generator safe and easy.
When you connect a portable generator to GenerLink™ and start it up, GenerLink™ automatically disconnects your service from the electric utility grid preventing the possibility of back feed, which can damage equipment and harm line personnel. Because GenerLink™ is designed and rated to connect directly to a standard electric service of 200 amps or less, all you have to do to operate a critical appliance is flip a breaker on in the breaker panel once the generator is connected.
What is GenerLink™?
GenerLink™ is a five-inch device that is installed behind your electric meter by your local utility. GenerLink™ eliminates the hassles of running multiple extension cords or hiring an electrician to install an expensive transfer switch and sub-panel to get your generator up and running. Sold through WKRECC, GenerLink™ systems are available in both 30 and 40 amp options and even can include surge protection.
How can I get GenerLink™ at my home or business?
WKRECC members can now purchase GenerLink™ through the cooperative. Members interested in purchasing Generlink™ should complete and submit the GenerLink™ Order Form below or at your local WKRECC business office.  Once the completed order form is submitted, a WKRECC representative will call to discuss payment and schedule installation appointment. Installation usually takes fewer than 30 minutes. 
What is the price for a GenerLink™ system?
The GenerLink™ system is available in both 30 amp and 40 amp versions, depending upon the size of your generator and usage. Each version is also available with or without a surge suppression option. 
                $660      30 amp without surge protection                              $740       30 amp with surge protection
                $765       40 amp without surge protection                              $845       40 amp with surge protection
Each GenerLink™ system comes with a 20-foot cord standard. Members have the option of purchasing longer cord lengths for the added price of $50 for 40-foot; $100 for 60-foot; $150 for 80-foot; and $200 for a 100-foot cord. 
Why is having a GenerLink™ system important?
A GenerLink™ system eliminates the use of extension cords and other connections that can be hazardous to members, neighbors, emergency personnel and utility workers. GenerLink™ also detects when a generator is operating and automatically disconnects from the utility grid, eliminating back-feed, which is extremely dangerous for utility personnel.