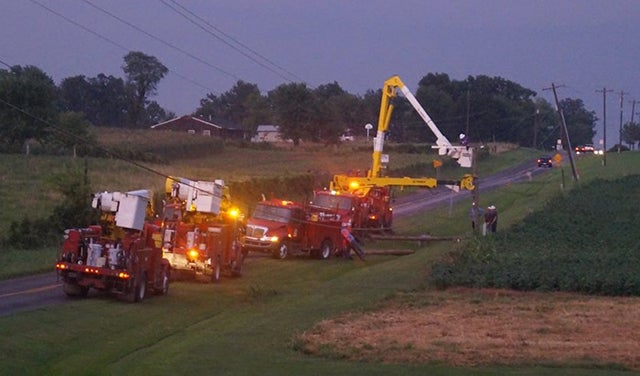 If your electric service is interrupted, please follow these steps:
Check your breaker box (or fuse box) to ensure that no circuit breakers are tripped (or no fuses are blown).
Check with your neighbors to see if their electricity is working.
Report the outage to West Kentucky Rural Electric Cooperative.
Call 270-247-1321 or 1-877- 4WKRECC (1-877-495-7322) to report an outage
Your call will likely be answered by an automated phone system. Press 1 to report an outage and listen to the recording for further directions. Be prepared to provide the telephone number* and name associated with the account and the street address of the outage.
Your Cooperative has an emergency crew on call 24 hours a day, 7 days a week to respond to outages.
*Make sure WKRECC has your current phone number on file. If your number has changed or if you want to add a mobile number to your account, please call 270-247-1321 during business hours and ask to update your account.
Report Your Outage by Text
With a simple set up, West Kentucky RECC members can quickly and easily report outages by text.
To get started, first make sure your mobile phone number is linked to your account. Call 1-877-495-7322 to speak with a customer service rep and update your account.
Then, text the word plugmein to 85700. You will receive a confirmation text.
After that, you're ready to report your next power outage by text! Just text the word out to 85700. You will receive a response and status updates as needed.
Your mobile plan's usual rates for texting will apply.
Questions, call 1-877-495-7322.